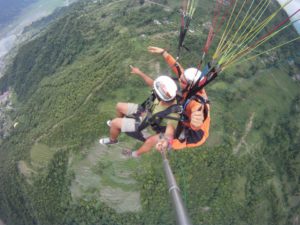 Pokhara is the most beautiful place in Nepal. In Pokhara there are many places to visit and experience such as the beautiful Fewa Lake, boating, fishing, many caves, museum and scenery of beautiful mountain and green hills.
Among all this, one of the great adventures is Paragliding, flying over the open sky. It is really fun and safe to fly. Pokhara has become of the leading locations to learn how to Paraglide. It's possible to paraglide in all seasons, but winter is the best time to do it.
SARANKOT is the spot to fly. This Hill is very famous for it's gorgeous sunrises, the beautiful views of the Annapurna range and of course paragliding. It stands 1600 meters above sea level and is surrounded by white mountain scenery that will take your breath away.
If you are here in Pokhara, don't miss the opportunity to paraglide! Nepal Outdoor Adventures can get yo up in the air in no time. Just give us a call!