The Annapurna Circuit Trek is a fantastic trek along the Marshyangdi, over the Thorung La (5416m) and descending the Kali Gandaki Valley.
The Annapurna Circuit Trek is the main attraction that draws trekkers to Nepal. Since 1977, when it was unlocked for foreign trekkers, this 18-day to three-week circuit trek has proved to be a gem as it provides a wonderful trekking itinerary around the Annapurna region. The Annapurna Circuit Trek begins in Besishahar and follows the Marshyandi River. This superb trek takes you into the midst of the rural community populated by an extensive mix of diverse social groups. It provides views of Manaslu and Himal Chuli on the east side along with impressive and splendid scenery of the snow-capped Himalayas. The four regions that are crossed throughout the trek are Lamjung, Manag, Mustang and Myagdi. Situated in the lower altitudes, Lamjung and Myagdi are both inhabited mainly by Hindus and contain a verdant olive subtropical valley with towns and agricultural terraces.
The Annapurna circuit trek runs counter-clockwise starting in Besisahar and ending in Nayapul. It achieves its highest point at Throng La (cross) at the elevation of 5416m. The trekking course passes along the base of Mt. Manaslu (8163m), Lamjung Himal (6988m), Annapurna II (7937m), Annapurna IV (7525m), Annapurna III (7555m) and Gangapurna (7454m), followed by the Marshyandi Valley and Annapurna I (8091), Dhaulagiri (8167m), and finishes through the Kali Gandaki Valley and Ghorepani Poon Hill. At the end of Nepal Annapurna Circuit Trek are Annapurna South (7219m) and Fishtail (6993m).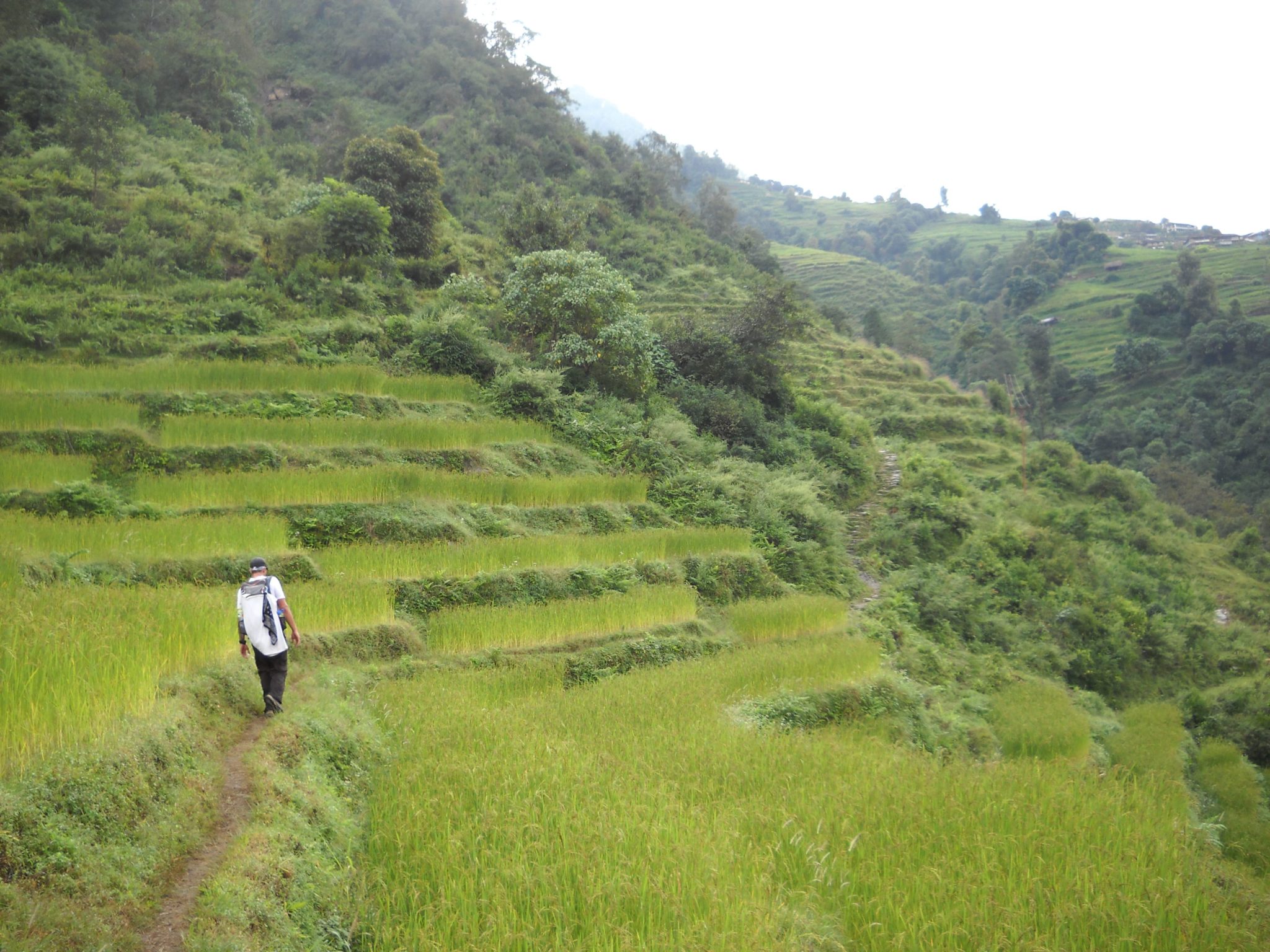 Descending west from Manang, the Annapurna Circuit Trek passes Throng-La Pass to the Muktinath Valley and continues on through the desolate Tibetan towns of Kali Gandaki located in the deepest gorge between the Annapurna and Dhaulagiri mountains. Here you will see the culture of the Brahmn and Chhetri in strting, Shepas in Manang and thakali in muktinath jomsom and marpha.  The trek continues to Ghorepani Poon. The Annapurna Circuit trek is highly popular in Nepal as it is considered a paradise of farming fields, Rhododendron jungles, mixes of Himalayan societies, stunning mountains, and the cultures of the Gurungs, Managi and Thakali. This trek finally ends with views from Poon Hill and the trek down to Nayapul where you will drive to back to Pokhara.
We do our best to answer all your pre-trip questions. We want you to be fully prepared for this adventure!
Itinerary
<Annapurna Circuit General Itinerary
Day 01 :Katmandu (1310m/4298ft). Arrive at the Tribhuvan International Airport where you will be greeted by our welcoming party and transferred to the hotel. Rest at the hotel and in the evening our staff will brief you regarding the trip. Stay over night at the hotel.
Day 02 :Drive from Kathmandu to Besi Shahar (830m/2723ft). Driving time: 5:30 hours. Over night at guest house.
Day 03 :Drive to Syange and trek to Chamje (1560m/5118ft). Driving time: 2 hours and walking time: 4:30 hours. Over night at guest house.
Day 04 : Chamje to Dhararpani (1810m/5938ft). Walking time: 5:30 hours. Over night at guest house.
Day 05 :Dharapani to Chame (2725m/8940ft). Walking time: 6 hours. Over night at guest house.
Day 06 :
Chame to Pisang (3190m/10466ft). Walking time: 5:30 hours. Over night at guest house.
Day 07 :Pisang to Manang (3500m/11483ft). Walking time: 5 hours. Over night at guest house.
Day 08 : Rest in Manang for acclimatization. Over night at guest house.
Day 09 :Manang to Yak Kharka (4090m/13418ft). Walking time: 5 hours. Over night at guest house.
Day 10 :Yak kharka to Throung Phedi(4441m/14570ft). Walking time: 6 hours. Over night at guest house.
Day 11 :Thorung Phedi to Muktinath via Thoroung-la passes (5416m/17769ft). Walking time: 8:30 hours. Over night at guest house.
Day 12 :Muktinath to Kagbeni (2665m/8743ft). Walking time: 2:30 hours. Over night at guest house.
Day 13 :Drive from Kagbeni to Tatopani ( 1110m/3636ft). Driving time: 6 hours. Over night at guest house.
Day 14 :Tatopani to Shikha ( 2020m/ 6116ft). Walking time: 5 hours. Over night at guest house.
Day 15 :Shikha to Ghorepani (2834m/9298ft). Walking time: 4:30 hours. Over night at guest house.
Day 16 :Ghorepani to Poon Hill (3210m/10531ft) to trek to Tadapani ( 2520m/8316ft). Walking time: 6:30 hours. Over night at guest house.
Day 17 :Tadapani to Nyapul and drive to Pokhara. Walking time: 5 hours and driving time: one hour. Over night at 3 star hotel.
Day 18 :Drive back to Kathmandu from Pokhara. Over night at Hotel.
Day 19 :After breakfast transfer to the airport for departure.
Note on Itinerary
We will do our best to adhere to the schedule above, however this itinerary is subject to change for numerous reasons beyond our control.
Price Includes
National Park fees, 1 night in Kathmandu and 3 nights in Pokhara, all meals unless otherwise specified in itinerary, expert local guides, airport transfers and in country airfare.
Not Included
Air transportation to/from Nepal, Bangkok hotel costs (if routing requires an overnight),  visas, any necessary emergency evacuation arrangements, optional tips to guides and staff, airport taxes, cost of obtaining a passport or medical immunizations, insurance, and items of a personal nature such as liquor, laundry fees or souvenirs.
Physical Qualifications
Trekking in Nepal is for active people in good health who enjoy vigorous hiking. Nepal has an "up and down" topography, there is very little level walking. We expect participants to be strong, experienced hikers in good physical condition. Gear and supplies can be carried by porters and/or pack animals, leaving members free to carry only a daypack (additional costs may apply). No technical climbing or other special abilities are required.  This trek spends several days at altitudes above 10,000ft. The trails themselves are only moderate, but at these altitudes hiking will feel more strenuous. A good physical conditioning program must be undertaken several months in advance to get into shape.
Weather
Nepal is a mountainous tropical country, which means it experiences climatic extremes. Night and day temperature differences can vary between 10C and 30C (50F to 86F) so you need to be prepared with a variety of clothing. The key to staying comfortable on a trek is layering.
Gear List
Travel Documents
Copy of first page of passport
Visa form for Nepal (or obtain at Kathmandu airport)
Luggage
Trekking Pack – Preferably 30-45L
Duffel bag – for non-trek items left at the hotel in Kathmandu
Daypack to carry your camera, water bottles, extra clothing (ideal if you hire a porter)
Luggage tags and luggage locks
Camping Gear
Sleeping bag and stuff sack, rated to 15 degrees or less
Outerwear
Rain jacket with hood, water repellent and roomy
Insulated parka/ski jacket, down or synthetic filled
Clothing
Midweight fleece jacket or wool sweater
Fleece pants or tights (see 'optional')
Midweight thermal underwear top & bottoms, synthetic or wool
Expedition-weight thermal top & bottoms
Long-sleeve shirts (1 or 2)
T-shirts, synthetic are best
Hiking socks (4), wool or synthetic
Accessories
Wool or fleece hat (over ears)
Snow gaiters (Winter treks only)
Footwear
Hiking boots, sturdy, ankle-support, water-resistant, well broken in
Camp shoes: trail shoes or running shoes (optional but nice)
City clothing
Bring a few lightweight, easily washable items for travel
Travel Accessories
Reliable flashlight or headlamp, plus spare batteries and bulb
Small quantity of favorite energy snacks
'Potable Aqua'-type water treatment tablets or drops
Hiking staff or trekking poles (recommended)
Two 1-quart water bottles or hydration system
Sunblock and lip balm – SPF 30+
Personal first aid kit / medicines
Hand sanitizer gel or Handi-wipes
Several Ziploc plastic bags
Large, heavy duty plastic trash bags (2)
Extra Field Gear
Camera, film/memory cards, spare batteries
Down or synthetic-filled pants (Fall treks these are a very wise addition)
Down booties (Fall treks around camp at nighttime)
Spare contact lenses or glasses
Games and toys: Frisbee, cards, etc.
Reading and writing materials
Things to Consider
Please remember to always pack essential items such as your passport, money, eyewear, a change of clothing and medications in your carry-on baggage, in case your luggage is delayed.  Cameras should also be packed in your carry-on bag.
Culturally sensitive dressing tips: For women, pants (or Capri length pants) and/or a skirt (mid-calf or longer) is recommended. Skirts are quite comfortable for trekking (mid-calf length is ideal). Tights, hiking shorts, sports tops or tank tops are inappropriate unless worn under other clothing. For men, pants are best. Men may wear hiking shorts, but they should be longer, near the knees. Men should never go shirtless.
This gear list can fit into one large duffel. You may want to consider using an extra large duffel so that you have space to carry home all the great gifts and souvenirs you'll be wanting to get. Most airlines allow for two bags with a maximum weight of 70 lbs each and linear dimensions not to exceed 62 inches. Additional charges may apply if you exceed these parameters.
Some trekkers like to hike with a backpack and carry their belongings with them.  A 30-45L pack is recommend for this.  You will need to carry a sleeping bag, extra clothing and any other personal items needed.  If you prefer a porter can be hired and you can just carry a day pack.  If you are worried about the vigorous nature of the trek then this option is recommended.  Small additional fees may apply for hiring a porter ($5-$10/day).
Cotton is wonderful in warm weather. However, once it becomes wet, it will drain your body heat. Bring wool or synthetics such as Capilene, MTS and Thermax.
You may find that you will not use every piece of clothing that is on this gear list. However, the list has been created to provide for the full range of weather conditions that MAY be encounter during your trek. Should the weather be unseasonably cold or wet, you will appreciate having this gear.
Always test your layers before a trip. Your outer layer should fit easily over the inside ones without binding and bunching up.
Make sure boots are broken-in. Bring moleskin for foot treatment. Thin liner socks worn under regular hiking socks may minimize the risk of blisters. The liner sock should be synthetic, not cotton. Test your sock combination before you go on the trip.
Travel clothes, extra gear and purchases will be left in a storage room at our hotel. Please bring a small bag, luggage tag and lock for this purpose.
What are you waiting for?